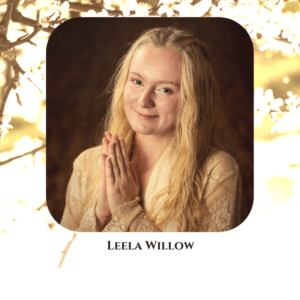 Leela Willow is a great emanator of peace. She found her path early in life at age 13 when she began learning in the Zen Buddhist temple called Cloud Water Zendo.
As a long time meditator of Zen Buddhist practices, she has acquired a wealth of resources through her many experiences. Leela completed years of Art Therapy training, earning the title Art Specialist. She enthusiastically incorporates the healing aspects of art into her shamanic journeying and practices.
For 4 years she worked as a paranormal investigator, being first in command psychic healer. She helped guide many spirits in moving on to the next plane of existence, creating a space for the lost and confused ones to heal as well as the persons and families affected to feel more comfortable in their homes.
Leela holds the Reiki Master's certification and uses it regularly in unique ways, especially channeling energy through her angelic voice. She holds certification in Thai Yoga Massage, possessing a somatic understanding of the body, integrating her Reiki, Shamanic practices, and Meditation with the totality of mind, body, and spirit.
In the more recent quarter of her life, Leela has been learning from elders and medicine people of Native American and Shamanic traditions, creating time and space to go on sacred journeys visiting and learning from the masters.
Willow has an empowering story of hardships in her past including intense struggles in early life. She has created and received the immense healings needed through her own journey of life. Her iron will and positive attitude alone carried her through these initiations, making her strong and steadfast. Emerging victorious through the fires of these internal and external struggles, she holds a balanced frequency of strength, love, wisdom, and compassion in sacred neutrality. Willow is truly in this eternal moment of now the essence of the healed healer.
This is a contact page with some basic contact information and a contact form.
Feel welcome to contact us with questions about events and private sessions!
You can also find us at Facebook.com.sonicsoundalchemy
and Soundcloud.com/sonicsoundalchemy
Visit us on Youtube !